June 13th, 2002 stood still with an unexpected heatwave.
It was a Thursday.
Family & friends came in from out of town,
my to be mother-in-law turned 50 just the day before.
We drove to the country of cow manure & pristine lawns
Our church building stood in disarray.
We pretended we knew Dutch Reform.
Sanctuary air stood stagnant & baked.
Sweat down my back with my only thought...tuile, satin sticking the next day.
Anticipation could not describe my emotions and yet, still there was the lingering of what could not be.
The night before my wedding, I stayed in the comfort of air conditioning with my to be sister-in-law. Listening to her talk highly of her brother and her thankfulness that I would be his wife spoke deep to me. I didn't have a sister.
Peaceful night sleep, no wrestling or tossing. I reminded myself that this night and the next 24 hours stood for shalom. All that was planned was planned. All that I had on my list had been passed on. I was but a boat in the sea of possibility allowing the waves to take me where I needed to go.
Morning came with a cool breeze and a warm shower. My friend gave me the gift of a puddle of relaxation known as a massage, and indeed it worked. Every point in my body felt no tension--which meant I needed my Washburn to play & sing. In those moments leading up to the biggest commitment of your life, when the man who should be there to give you away wouldn't be is when I got to wrap myself up in my good Father's arms in the gift of song.
"Tell anyone who calls that I'm unavailable," were the last words spoken before the door shut to my room that would be no more.
Singing, playing, pausing. That's how a wedding day should be. Not running around, tying up loose ends, or worrying how everything would look--I think God was preparing me for a lifetime of me running around, tying up loose ends as he calls me back to the Washburn & melody.
Hair was done, bridesmaids--dear friends to join me in this day, no pompous music to be played. Simple white candles abound, my princess dress with flowing guaze sleeves and bridesmaids stepped out of Jane Austin's Emma. Cranberry peonies stood on point as my mother walked me down to Sarah strumming & singing in her true alto voice, "Somewhere Over the Rainbow."
There stood the man that would be the best choice I've ever made, ready to take all of me. The betters and the worsts, the richers and the poorers, the sickness and the health. His word bound that day has never once stood in vain. He is what good men are made of and these past ten years have only secured it more deeply in the foundation of my mind & soul.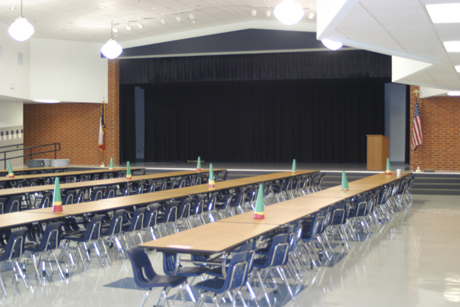 Photo via www.archrabe.com
Our reception was just as us than any other.
We didn't have fine gourmet to much of many's surprise. But, it felt like the feeding of the 5,000. Our meager wedding budget abounded with a simple meal, which the King of kings would be honored to feast at (he did that day in some form).
Elementary cafeteria transformed into sparkling white lights and laden with the people we loved the most. We were blessed. We handed out tickets for raffle drawing. It was us. Not traditional, but comical, real & genuine Ben & Kamille.
What I love about our wedding and reception is the picture of people there. How God does transform five loaves of bread & two small fish into a feast, because he is present. Jesus fed body & soul that day.
Our reception resembled that body & soul.
Not stuffy or uptight, but a candy filled pinata for the kids to break open and a fork-spoon constructed candlebra to give to the raffle winner. Chips & salsa, way too much cake, veggies & fruit and bagels & cream cheese. Sharing this table looked majestic to us.
This is what fairytales should be made of....Happy 10 years to the groom of my youth!
A Year Ago: What You May Not Hear About Marriage